About CJIS
The Canyon Journal of Interdisciplinary Studies is published in print and online twice a year through the Center for Innovation in Research and Teaching at Grand Canyon University (GCU), and highlights exemplary student and faculty research. Our annual themed issue provides a platform for writers and researchers from a range of disciplines, making CJIS unique in its interdisciplinary focus. CJIS also publishes a yearly Integration of Faith, Learning and Work issue where that interdisciplinary focus is viewed through the additional lens of faith.
The goals of CJIS are:
1. To encourage exchange of empirical and theoretical research among faculty and students at GCU, especially graduate students.
2. To provide graduate students professional experience in the dissemination and publication of their work.
3. To increase awareness of the range and diversity of research being conducted by faculty and students at GCU.
Aligned with these goals, topics covered in CJIS represent a range of methodologies, disciplines and theoretical topics.  
Target Audience
Manuscripts published in CJIS are relevant to a broad audience of post-secondary faculty, students and researchers.
Contact Information
If you have questions about the submission process or if you are a graduate student who would like to work with an editor on a manuscript, please reach out to CJIS editor, Maria Zafonte at maria.zafonte@gcu.edu or 602-639-6681.
---
Editorial Office
---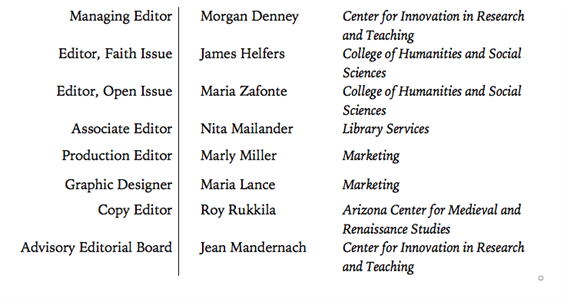 Editorial Review Board 2017-18
Andrea Alden
College of Humanities and Social Sciences

Sammy Alfaro
College of Theology
Ron Berman
College of Doctoral Studies
Patricia Chess
College of Doctoral Studies
Paul Danuser
College of Education
Donna DeMilia
Colangelo College of Business
Stacy Graber
Youngstown State University
James Helfers
College of Humanities and Social Sciences
Charles Maxson
College of Humanities and Social Sciences
Cristie McClendon
College of Doctoral Studies
Cindy Seminoff
College of Science, Engineering and Technology
Heidi Vogeney
College of Humanities and Social Science
Kimbel Westerson
College of Humanities and Social Sciences
---