FAB: Humor in the Classroom
Offline
Greetings!
My name is Amanda Laster-Loftus and I will be facilitating the discussion in this thread, which is being sponsored by the Faculty Advisory Board (FAB). This discussion is presented as a part of the Faculty Training & Development Faculty Culture Initiative. We will be exploring (ideally with a bit of humor ourselves) why we want to use humor in the classroom as well as some specific strategies that faculty can implement in both the online and traditional settings.  We will discuss how humor affects the student-teacher relationship, what types of effects it has on student outcomes, as well as how it shapes classroom dynamics/culture.  If we have time, we really should also explore how things can go array with using humor unsuccessfully in the classroom….
On a side note, you can also look forward to some cheesy teacher jokes, puns (I do love a good pun), and even a cartoon or two.
This is a discussion thread for ALL FACULTY- I want to hear from our online, ground, adjunct, and full time faculty :) Share what you know, and share what you don't know!
To kick off our discussion this week, I would love to hear from YOU first:
Do you use humor in the classroom, and if so what does it look like?
If you don't use humor in the classroom, what's stopping you?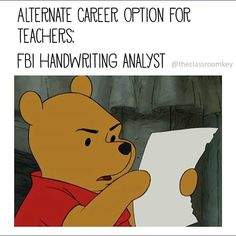 401

views

0

previews

1

version
Avg. Rating:

Posted By:

Amanda Laster-Loftus

May 6, 2019
About this forum
43,432

views

124

topics

23

followers
---